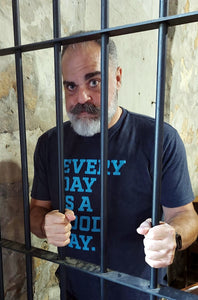 Doing Hard Time - or "With friends like these..."
Over the weekend I had the opportunity to get away for a quick break.  TravelOtter and I hit the road (with all manner of loud otter songs) heading for Knoxville, TN.
We took a few days visiting our friends RJ and Roseanna at Steps in Tyme Designs for some rest and relaxation.
One of the first things - apart from hitting Amazing Bakes for a couple of thumbprint cookies - was heading up to the Great Smokies Flea Market.  All manner of neat stuff.  People with different items for sale.  Everything from blankets, shirts, jewelry, antiques, cooking products, sugar gliders, and even beard care!
Met a dapper gent at Stiffy's Beard Products.  A big selection of different balms, waxes, and beard care.  Turns out, he was from Johnson City, TN and even attended Science Hill High School! (My high school band director was the director there for many years).  Small world indeed.
After the flea market, my friends wanted to take me to "A place Dr. Mike would really enjoy..." and off to Historic Brushy Mountain State Penitentiary.  Yep, my friends thought this would be a perfect place for Dr. Mike.  Turns out, this was an incredible location and a perfect getaway.  Not only do they have an incredible BBQ restaurant, but they have a moonshine/whiskey distillery as well as all the history to experience with the facility itself.  Great food, great drinks, and learning all the details behind the history of this facility.  (Even saw the barber's chair inside a cell!)
Many thanks to my friends for thinking of Dr. Mike - and jail.
Huzzah!
#shavedapper
---