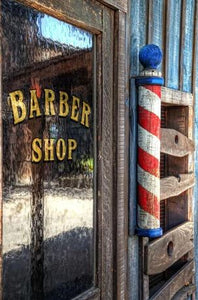 For our barber friends
A few years ago I stumbled across this short poem.  It seems a great tribute to all our friends in the barber community.  
Oh, I am a little barber
And I go my merry way
With my razor and my leeches
I can always earn my pay
Though your chin be smooth as satin,
You will need me soon I know
For the Lord protects his barbers,
And He makes the stubble grow.
If I slip when I am shaving you
And cut you to the quick,
You can use me as a doctor
'Cause I also heal the sick.
Although leech use is way down, the sheer benefit of having a moment of time to take care of yourself is immensely beneficial.
Self care is not just about taking a coffee break or playing a video game.  It is a period of time where *you* are the focus.  A recharging of mental, emotional, or even spiritual battery is essential for your health.  Sure, shaving appears to be a simple activity, but it is fifteen minutes devoted to clearing your mind.
Take time for you.  Reach out to a friend. Shave Dapper.
---