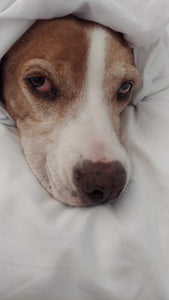 Getting our punk on
On Friday we hit the road for Greenville, SC and the SE Punk Flea Market.  Although the weather was quite frightful on the highway with crosswinds of fifty mph and massive downpours, we made it safely into harbor.
Saturday began with setup - Summer heat was piping up and it was getting steamy.  The hall kicked on all the ceiling fans and A/C making the vendor space quite comfortable.  A big plus for the weekend!
This weekend we had a special guest with us - a wonderful American Fox Hound named Penny.  A well behaved sweetheart who brought smiles and happy meetings to our little shop with only a few surprised barks here and there
We had several folks pick up their first safety razor and were eagerly awaiting the first opportunity for a classic shave.  One gent ran home and dove in.  His experience was very good and he sent a message that his razor was "..the Excalibur of shaving!"  I think that is a good bit of feedback indeed.
Sunday was Father's Day - we had several families come visit and a few folks picked up a quick present.  One proud poppa picked up a special Rockwell 2c Shave set saying "I have always wanted to do this and now I can!"
Helping bring a bit of shaving zen is one of my favorite experiences with this shop.  
Our next event is Magic City Convention in Birmingham, AL this weekend.  We are looking forward to lighting up the big purple tent again!  Hope to see you there!
---