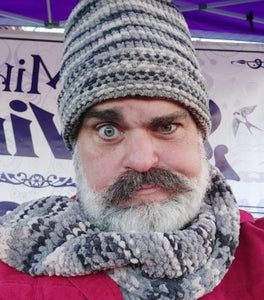 Oh the weather outside is frightful!
We were looking forward to a good weekend of markets, but Ol' Man Winter decided to throw a wrench into the plans.  A strong line of thunderstorms swept through Saturday morning/early afternoon.  Our market organizer was watching the weather and made a tough decision to cancel our Saturday show (No moved to this coming Sunday).
We took the time to get restocked and organized.  Sunday was our return to the Bizarre Bazaar at The Imperial.  One of our favorite locations - the food is amazing, and the crowd really enjoys the market.
They had a children's book reading during the market which really made a great crowd. Lots of people stopping by and seeing what everything is all about.  Much fun indeed.
As the sun set, the temperature really started dropping.  I picked up an INCREDIBLE hand made hat and scarf.  Super soft and comfy!  I felt very festive and it made a big difference in my comfort and joy!
---