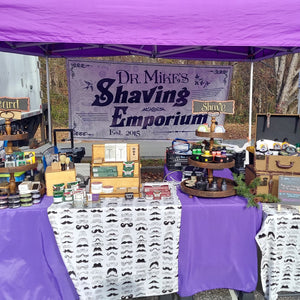 Oh the weather outside is frightful - but Dr. Mike's is so delightful!
Hope everyone had a great Thanksgiving and you are recovering from your turkey/pie coma!
Bizarre Bazaar Night Owl Market @ The Beer Growler
Friday after Thanksgiving, we attended the Night Owl market.  This is a fun pop up market where we break out all our lights and holiday décor to bring classic shaving to the fine folks in Avondale. The day started warm enough, but as the sun set it began to get colder and colder.  By the end of the evening, we had 38°F on the thermometer.  A chilly evening indeed!
We took advantage of the event to plan out all the fun for 2022 - looking at different events, new products, and how to really make this little slice of the internet grow!
Mead & Metal Artist Market @ The Viking Alchemist Meadery
Combine Vikings with cute puppies/dogs and blacksmithing and you have a really neat pop up market.  We met so many great people, enjoyed some lovely beverages, and brought the big purple tent to a new market.  Of course, where there be Vikings, there be beards.  So many beards.  A great day of sales and helping bring several new friends into the classic shaving/beard care life!  Huzzah!
 What's next?
Be on the lookout for a return to the airwaves starting in December.  Yes, Dr. Mike will be back on Facebook Live to help bring "edutainment" - He will show you how to use your safety razor, care for your beard, and even how to take care of your tools.  
We have a few new product lines we will release as well.  Onward and ever upward!
---