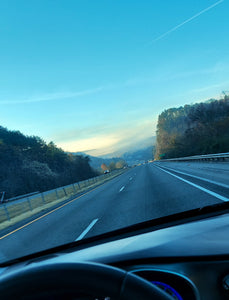 On the road again
Atlanta to Birmingham to Huntsville to Birmingham to Atlanta (With many cups of coffee)
When sales are moving along, you sometimes have to go out of your way to make sure the best products are available for your customers.  On Thursday, I decided to make a quick trip over the border to Alabama to meet with Carrie from Soap Commander and Jason from Furry Hippie Beard Company.  We needed a full restock from Carrie, and a few extra items from Jason. 

Made great time and was able make it to Huntsville in time to run over to Soap Commander HQ - right before Carrie had to take the troops to music lessons (How awesome is that?).  Ran back to the hotel and enjoyed a fine cup of coffee/treats at "Dragons Forge Café" (highly recommended) before meeting Jason to pick up beard oils, butters, and balms.  
After dinner with Jason, I got back to the hotel just in time to get back on Facebook Live for Dr. Mike's Shaving Videos triumphant return.  Always a challenge when you aren't in your normal studio.  We will get back in the groove soon.
Friday morning came quick and I hit the highway back home.  Although there are different routes back to Atlanta, I met with our friend Randy in Birmingham.  He picked up four of our freshly made Furry Hippie beard care products.  Stopped at Red Cat Coffee, then over to Sons Donuts to pick up treats for the family.
A fast and furious trip - but seeing friends is always worth every mile.
Winter Wanderland!
Saturday was a great day under the big purple tent.  We participated in Avondale Estates' Holiday celebration.  All the shops around town held various holiday markets and activities.  Dr. Mike's was set up in front of "The Beer Growler" for a pop up market.  Had a bunch of folks stop by and even some friends we have not see in ages.  Great sales, great music and drinks, and all manner of shenanigans. 
---