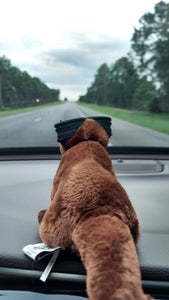 On the road again
Over the weekend I headed out I-20 to a little town called Columbia, SC.  Wanting to get a good start for the show, I got into town Friday for a Saturday start.
The Southeast Punk Flea Markets have been really a great fit for the shop and quite fun to attend.  So many great artists, vintage shops, and talented makers.
Had a rather nice surprise when I got to my hotel room - a big basket of snacks and a signed letter from the General Manager of the hotel welcoming me to Columbia and thanking me for my staying there.
Saturday was an early start.  Bringing the big purple tent and lights I got everything setup in short order.  As it had been a while since I had been at a show, it was good to bring everything, go through inventory, and get my shop better organized.
A good crowd came through the doors - I had several folks walk up saying how they were hoping I was going to be here and looking forward to the shop.  Always a plus!   Several folks purchased their first safety razor and are excited to have the first good shave.  Huzzah to them!
It appears our bearded friends also wanted to come by to pick up our great products to help them look and feel their best.  We are truly honored to be a part of the regime.
Sunday was much of the same.  Lots of people coming by to learn about shaving and beard care.  We met so many wonderful people throughout the weekend - and that is what it is all about.
Managed to get home around 10PM Sunday evening.  A good drive - even with a loud singing otter.  Always good to be on the road again.
---