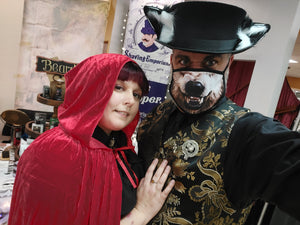 Onward and ever upward with thanks!
This last week was a great continuation of our Shopify transition, a whirlwind trip to Universal Studios Orlando, and an incredible Goblin Market.
Shopificiation
Shopify continues to impress with the integration with other online systems - the Facebook, the Instagram, and even the Google!  Behind the scenes, the analytics really help dial in how to make our shop better and better.
Quick Trip!
On Tuesday, my big sister (and merchandising specialist) Julie and I hit the highway to spend a day at our favorite theme park - Universal Studios Orlando.  The weather was just about perfect - Sunny and cool.  But the best part was how the park is decorated for the holidays.  Lights, ornaments, garland, and all manner of music.  We got to see an incredible show called "Grinchmas" - it's a combination of the animated "How the Grinch Stole Christmas" and the Jim Carey movie of the same name.  Very well done with music and humor.  Afterwards, we got to see a grand Christmas Parade with Santa Claus!  Tis the season!
The Goblin Market
After returning home Thursday afternoon, I had to prepare the shop for a very fun event called "The Goblin Market."  An immersive market where actors interact with patrons and vendors.  Never know what the Goblins will do next.  
The theme of this year's market was sort of "Dark Fairy Tales."  We took that to heart as I, Dr. Mike, dressed as "The Big Bad Wolf" and Kay the PA was adorned as "Little Red Riding Hood."  Seemed to work well with the evening's festivities.  Lots of folks stopped by the booth and we were able to bring the good word of classic shaving/beard care to the masses!
Giving Thanks!
To each and everyone who has graced us with visiting the shop, putting your faith in our products, and stopping by the big purple tent - we thank you.  Without you all, we would not be able to do what we love to do. 
Huzzah and Harrumph!  Happy Thanksgiving to you all!
---