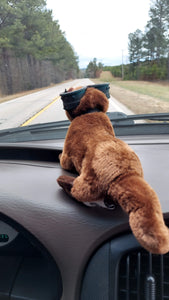 The road that should have been less traveled.
With apologies to Robert Frost...
Last Friday we headed down I-20 to attend the Southeast Punk Flea Market in Columbia, SC.  Around Exit 113 (Eatonton, GA), it appears Google Maps updated and clicked the "Avoid Highways" checkbox.  My incredible "navigator" indicated "EXIT NOW!" - so I did.  My thought was there must have been some kind of big accident on I-20 causing a delay I should avoid.
I was put on farm roads, 2 lane backroads, logging truck roads, and a few unmarked paths.  The scenery was really fun as I got to see horses, cows, sheep, lambs, pigs, goats, hawks, buzzards, and from what I could tell I very large wild boar that had just met its demise.
What should have been a three hour tour - (a three hour tour, sorry) was four and a half hours of flipping and flopping back and forth all the way to Columbia, SC.
Made it to Columbia and got settled in my hotel - a small piece of the IHG empire.  After getting a little break, I headed over to visit with a friend who owns his own Barbershop in downtown Columbia by the University of South Carolina.  Got to catch up, talk barber shop stuff, and even a quick haircut from a talented barber.  Afterwards, stepped into a small restaurant/bar next door - very convenient.
Saturday morning we hit the ground running to setup for the SE Punk Flea Market.  We really enjoy these markets.  An eclectic mix of amazing vendors bringing a big variety of stuff to market.  Great sales, fun people, well organized and supported, and easy days of vending goodness.
Although the rain moved in on Sunday, the crowd was ready to go.  Big surge of people visiting the market and made the day go quickly.  We brought several folks into the Classic shaving world (yay!) and even won a gift from the "Vendor Raffle."
We were able to breakdown shop quickly and headed down the RIGHT highway all the way home to Dr. Mike's HQ in only 3 hours.  Now, I need a nap!
---