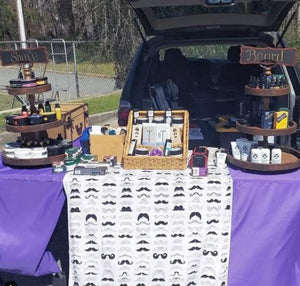 The Winds of March
Well, that was a fun weekend adventure!
On Saturday, Dr. Mike's attended the "Mead & Metal Artist Market" at The Viking Alchemist Meadery in Smyrna.  A lovely sunny day - but 35-45 mph win gusts led us to roll with setting up in a bit differently.  Instead of our usual big purple tent, we parked the 2001 Dodge Grand Caravan Sport ("The Green Bean"), opened the back door, and set up our tables. 
The wind was challenging, but we were able to make it through the day with no troubles - nothing more than a little wind/sun burn.  Most other vendors there ended up removing their tent tops or forgoing at tent all together.  A few folks had some serious breakage as the wind would blow stuff over, pick up tablecloths, and other general havoc!
Even with all the bluster, we had some really great folks stop by - even a mother and her 13 year old son looking for help in learning how to shave.  We got them setup in true classic Dr. Mike style.  A Rockwell 2c in gun metal (sexy!), Soap Commander Courage Shave Soap and Aftershave Balm, and a big Omega Boar brush.  Many thanks to all you who stopped by!
A big thank you to the organizer Nicole, the fine folks at Viking Alchemist, the great vendors, and a seriously good burger food truck for making this weekend a great one!
What's up next?
We have been restocking and looking for new items to add to our collection of excellent artisan products as we prepare for the upcoming adventures in April 2022! 
We will be heading to Charleston, SC and Huntsville, AL for a couple of big shows - but we might try to sneak in a pop up market here in Atlanta just in case you might be missing us :)
We look forward to an amazing Springtime!
Shave Dapper!
Dr. Mike
---