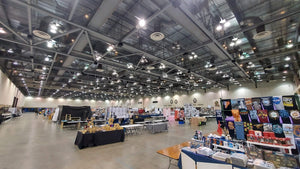 We have lift off!
HUNTSVILLE COMIC & POP CULTURE EXPO 
A great weekend with Dr. Mike's in Huntsville, AL at the Huntsville Comic & Pop Culture Expo!  Over April 22-24, we vended at what turned out to be the largest convention we have ever attended.  A little apprehension on the way up - only natural as this was our first time at this convention (although we love this area!).  
Our doubts were nuked as soon as the doors opened Friday afternoon.  We met so many great cosplayers and other vendors throughout this weekend.  Always happy to bring classic shaving and beard care to new people.  There is the educational aspect which really makes these weekends magical.  Helping people make their lives a little more dapper/comfortable brings us great joy!  Huzzah!
We will be doing inventory and restocking as quickly as we can in order to bring the best products available to you!
Dr. Mike's Shaving Emporium will continue to look for bigger and better events - if you have any ideas let us know.  We would love to bring our little shop to your part of the country!
Huzzah!
---