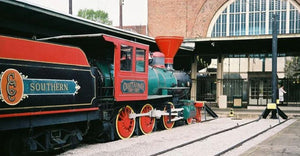 Woo Woo Chattanooga! There you are!
When you hear the whistle blowin' eight to the bar -- Then you know that Tennessee is not very far.
Took the big purple tent up to Metrotham 3.0 in Chattanooga, TN over the weekend.  Although the crowd was a bit light, we still had a grand time meeting new people, having laughs, and enjoying a bit of the local food flair.
Last week I spoke about community.  Over the weekend, it really seemed to bring everything together.  We had so many vendors we have not seen in a while stop by and catch up with stories from all over.  Even the stars (we were across the way from a few folks from all over the entertainment world) we getting into the fun.  You can't help but smile when someone you've seen on the big screen/TV/Streaming channels is standing right in front of you talking about shaving, hair care, or whatever goofiness they have experienced.
Why do we do all this?  Because bringing people together into our little world is how we try to bring a smile, a laugh, or a moment of peace.
Take a moment for yourself, reach out to your friends, and shave dapper!
Dr. Mike
---